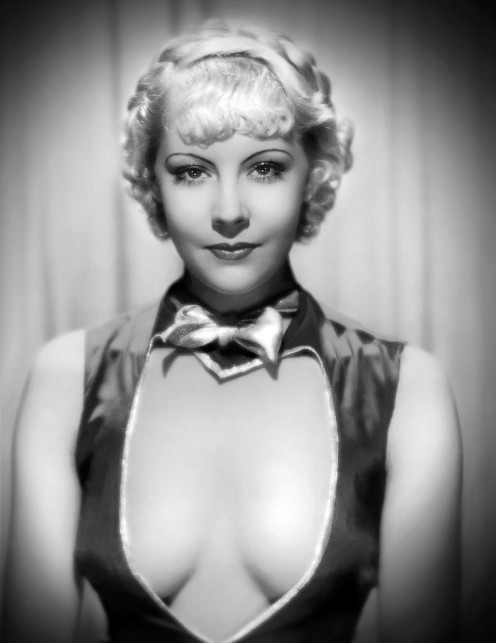 A brief look at June Knight, dancer, singer and actress of stage and screen famous in the 1930s. Collected here is bits of trivia about her movies, marriages, romances, and life in general. Using various online sources as well as old newspaper and magazine articles, we get just a very brief look at her life and career.
Born Margaret Rose Valliquietto January 22, 1913.
She suffered from infantile paralysis from the age 22 months until age five.
At age four she was diagnosed with tuberculosis which was cured with time spent in Arizona.
She also suffered from double pneumonia, scarlet fever, whooping cough, chicken pox and mastoiditis. She was so sickly that doctor's simply didn't believe she would live.
She learned to sing to help strengthen her lungs and to dance to help build strength in her legs. By the time she was 15 years old, she was the picture of health and one of the best gymnasts at her school.
1930's Broadway and Personal Appearances
Made her Broadway debut at age 19 in the Ziegfield Follies show Hot-Cha (1932).

June 1934 played a two-week engagement at the Beach and Tennis Club in Miami Florida. She also did appearances at the Rony Plaza Hotel courtesy of the Beach and Tennis Club.
Worked in two other Broadway shows during the 30s; Take a Chance (32), Jubilee (35).

In 1935 she studied under Samuel Krayzer who had been "building and polishing" stars since 1878. He said of her, "She possesses a thorough understanding of the mind and has a sincere purpose in pictures." Some of Krayzer's other pupils were Paulette Goddard, Fredric March and Edwin Booth (whose career would be over shadowed by his brother, John Wilkes, who would gain notoriety as the assassin of US President Abraham Lincoln).

June Knight's 1930s Films
A listing of June's 1930's film credits with bits of trivia about the film, June, other actors and more where applicable.
(1938) Vacation from Love: June sang "Let's Pretend It's True".

(1938) Break the News: A long forgotten British B-movie
(1937) The Lilac Domino: A British B-movie one of several that June worked in. A rather obscure title.
(1935) Redheads on Parade
(1935) Broadway Melody of 1936: June sang I've Got a Feelin' You're Foolin with Robert Taylor. Buddy Ebsen dances with his sister Vilma, who would soon retire from show business. She and Buddy had been a popular vaudeville act in the early 30's.
(1934) Wake Up and Dream: This was Russ Columbo's first and only lead role in a film. He wrote all four songs used in the film's score. June sings with him on "Wake Up and Dream", "Let's Pretend There's a Moon", "When You're In Love" and "Too Beautiful for Words" which some Columbo biographer's claim he wrote for Carole Lombard with whom he was involved romantically at the time of his death. He was killed in a freak shooting accident at age 26.
(1934) Gift of Gab: Boris Karloff and Bela Lugosi have small roles.
(1934) Cross Country Cruise
(1933) Take a Chance: Vivian Vance had an uncredited role in the film. Vivian, of course would go on to gain fame as Lucy Ricardo's landlord and friend, Ethel Mertz in I Love Lucy.
(1933) Ladies Must Love
(1930) Madam Satan: While she tested for the lead role, she was too young to play a thirty something woman. She did have an uncredited role.
Romantic Relationships/Marriages
Was rumored that prize fighter Max Baer had proposed to her in 1933, she admitted he had, but then laughed if off saying that "Max proposes to everybody".
She and Texas oilman, Arthur A. Cameron, who married in August of 1938, divorced in September of 1943. Cameron stated that she was so jealous that it was almost like a phobia. Knight denied being the jealous type, but admitted she was possessive and very much in love with her soon to be ex-husband. She had been asking for $4,000 a month alimony, $10,000 for attorney fees and half of community property. She was eventually awarded a $50,000 settlement. The couple had met in a Galveston night club where June had been making a personal appearance.
After meeting in Miami Beach, Florida, in 1942 ,wealthy New York broker Paul Ames, age 32, (whose brother Stephen was married to actress Raquel Torres and who had been previously married to another actress Adrienne Ames) married June on November 30, 1943. He filed for divorce just thirteen (some sources state nine days) later siting cruelty. Knight complained that Ames always had his friend, Murray Stern who served as best man at their wedding, hanging around, so the couple had little time together alone. She also said that Ames was sullen and morose and continually allowed his family to interfere in their affairs. She was asking for $1,200 a month alimony. [1]
In 1949 she married Carl B. Squier, Lockheed Aircraft executive.Their marriage lasted 18 years, until his death in 1967.
In 1969 she married for the fourth and last time to Jack Buehler, another Lockheed Aircraft executive and close friend of her late husband, Carl. She remained married to Jack until her death on June 16, 1987.
Sources:
"13 Day Marriage." The Milwaukee Sentinel 15 Dec. 1934: 22. Print.
June Knight Trivia
June stood 5'5″ tall and weighed 119 pounds. She had blue eyes and taffy-colored hair.
Around age 15, she adopted the name Marie Valli. She was visiting MGM and heard one of the great stars of the day trying out for a singing role. Knight rather boldly said out loud she could do better than that which caught the ear of director Cecil B. DeMille, who decided to test her. He was impressed and almost cast her in the lead. Although she didn't get the lead, she did get an uncredited part in the film.
In 1931, she started a dance partnership with Jack Holland using her name of Marie Valli. Holland changed her stage name to June Knight. She liked it so much she legally changed her name to that. In 1933, when she split with Holland, he hired a new partner and gave her that same stage name.She sued Holland to gain complete rights to the name of June Knight.
In 1935 June and her maid were bound and gagged by two robbers in her apartment who stole $5,000 worth of jewelry from her. Stolen were a diamond ring, a diamond bracelet, miscellaneous pieces of jade and some coins. Knight reported that one of the men had called her on the phone claiming to be an executive who wanted a testimonial and who suggested a conference. She agreed, when the man came to her apartment, he pulled out a gun and proceeded to tell her that it was a stick-up and he wanted her jewels. A second man then joined them and they bound her by the ankles and stuffed a towel in her mouth and then took her jewelry.
In June of 1944, she was hospitalized to have a benign tumor removed.
In 1945 had her own line of perfume.
June was a bit of an inventor, coming up with the Widow's Peak Coiffure Clip, a hair clip. She invented a garter belt with an attached small change purse, she also invented the June Chic, a collapsible camping toilet.
© 2015 Glory Miller/Graple's Entertainment Archives